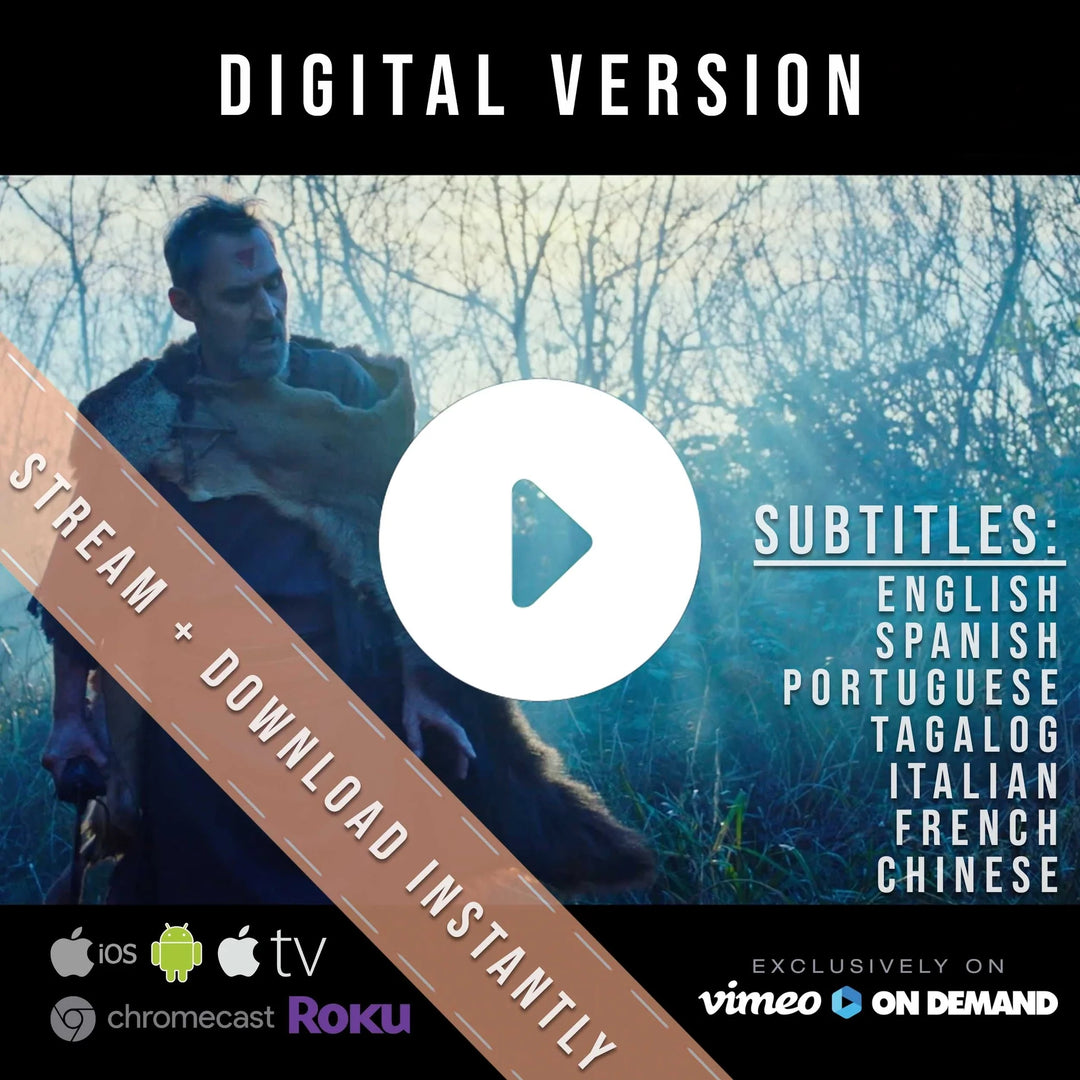 INSTANT STREAM + DOWNLOAD PILOT SHORT FILM
Regular price
$7.99
Sale price
$0.99
/
***NOTE***: THIS PRODUCT MUST BE VIEWED DIRECTLY ON VIMEO.
CLICK THE LINKS BELOW IN DESCRIPTION TO VIEW DIRECTLY ON VIMEO.
Scroll down for product info and streaming options.


Watch on iOS, Android, Apple TV, Roku, and Chromecast. Learn more.
CLICK HERE TO---->RENT FOR .99 CENTS (48-hour streaming period)
CLICK HERE TO---->BUY FOR $1.99 (stream + download anytime)
Stream or download our breakout concept short film and behind-the-scenes that started it all, on Vimeo instantly. To RENT or BUY, click just the links above and sign up for a FREE Vimeo account if you don't have one! If you do have one, just login and stream. If you have any trouble buying or renting on this page, you may also buy or rent directly from our Vimeo On Demand page. If this concept short film and behind-the-scenes inspires you, please DONATE or INVEST and help us fund the marketing for our full feature, The Oath, releasing in 2023.

SPECIAL OFFER FOR DIGITAL BACKERS: Receive 50% off a Blu-ray + DVD. To claim your 50% off code, request one using our contact form after purchasing this digital version. You will need to forward your purchase confirmation email from Vimeo so please have it available. We also provide codes to those who Rent that wish to convert their rental to a purchase for just $6 more. Request your Rent-to-purchase code using the same contact form.
About this concept short film and behind the scenes
:
This third ALL-TIME Highest Funded Short film of Kickstarter in 2017 sold nearly 10,000 tickets in limited worldwide theaters in 34 U.S. States and 4 different countries. It was funded by over 1,600 backers and created for the sole purpose of generating funds for a full-length major motion picture. This crowdfunded phenomenon, which now has well over 10,000 backers, is aiming to become the highest crowdfunded media project of all time and touts an outstanding rating of
8.8 Stars on IMDb
.

SYNOPSIS:
420 A.D., Hunted amidst a wild country of the New World, Moroni II, an aged warrior prophet, is confronted by his mortal enemy, King Aaron (Ben Cross). Bearing the legacy of freedom from the great Captain Moroni (Darin Southam), who lived 500 years earlier, the namesake must summon the strength for a final stand. Outnumbered and exhausted, Moroni II's struggle for liberty, and his willingness to die for the same, honors the man he was named after.
Technical Note:
This VOD has been modified from the original. Image quality is 1080p, optimized for streaming, with simplified 2-channel STEREO sound. For a better theatrical experience (FULL 1080p image quality with Dolby 5.1 Surround Sound), please purchase a Blu-ray + DVD. Ships same business day worldwide. 
TOTAL DIGITAL STREAM/DOWNLOAD RUNNING TIME: 25 minutes
- Reign of Judges: Title of Liberty Concept Short Film (14 minutes)
- Behind-The-Scenes (10 minutes)
RATING:
- Not Rated by the MPAA (considered "PG-13" for intense action sequences)
- Rated "PG" in two provinces of Canada